News
2020 Economic Forecast Luncheon: Where Does Houston Stand During Global Uncertainty?
2020-02-11 | by Gene Reynolds
One of the highlights on the calendar for our CPA firm is attending the annual Economic Forecast Luncheon presented by the Greater Heights Area Chamber of Commerce.
This year's luncheon took place on Thursday, January 30 at Sheraton Brookhollow Hotel. We were provided with an insightful look at the Houston economy in 2020, specifically the various challenges facing companies that do business in our city.
Despite the current climate of economic uncertainty, we were encouraged by the news that events affecting the oil & gas industry on a national and global level should prove to be less serious for Houston's economic outlook.
Our Involvement in the 2020 Economic Forecast Luncheon
Reynolds and Associates was a proud silver sponsor of this year's economic forecast luncheon. We purchased two tables for our team and clients:
Reynolds team: Gene Reynolds, Daniel Garcia, Leigh Vitols, L'Rissa Padrezas, and Krista McCall.
Our clients and friends of the firm: Ben Hiltl (FSI Holdings, LLC), Al Herring & Matthew Herring (Herring Construction), Greg & Nikki Walls (Tejas Pallet & Crate Co.), and Mimi Parsons (OZK Bank).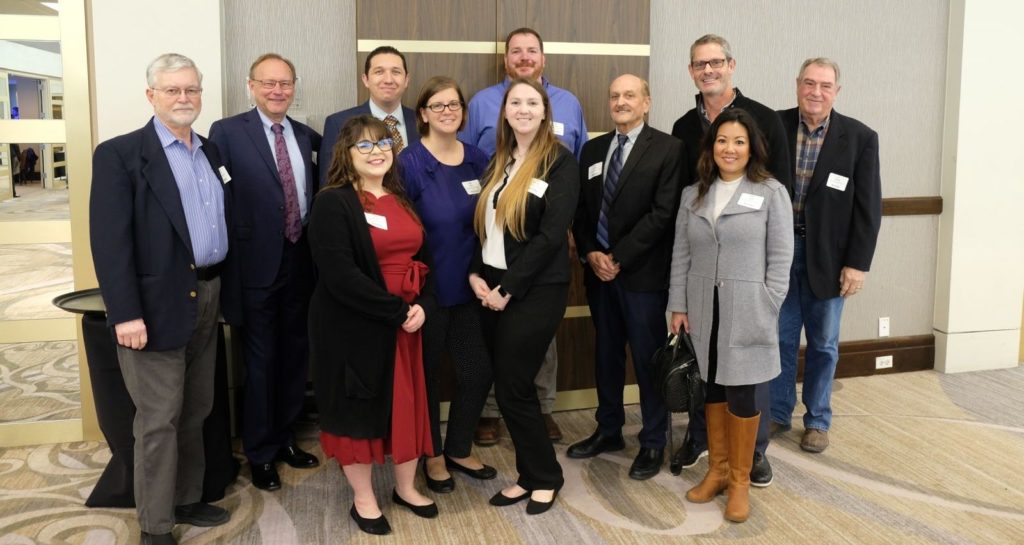 In total, there were approximately 300 event participants at this year's luncheon. We joined together focusing on important Houston business issues such as employment, interest rates, energy, and real estate.
The luncheon was highlighted by a keynote address from Dr. Bill Gilmer, the Director of the Institute for Regional Forecasting with the Bauer College of Business at the University of Houston.
Lessons Learned from Dr. Gilmer's Presentation
Dr. Gilmer addressed uncertainty surrounding the global and Houston economic outlook in 2020. Our economy has traditionally been dependent on energy and oil & gas, which makes recent headlines about companies filing for bankruptcy, being delisted, or closing offices seem concerning.
However, Dr. Gilmer cautioned that these issues need to be addressed with care as we look forward because they are likely to prove less serious for Houston's economic outlook due to Houston's current economic diversity.
Overall, Dr. Gilmer noted that expected changes to the Houston outlook remain modest despite the uncertainty surrounding the global economy.
We appreciated the presentation and the follow-up question and answer session with Dr. Gilmer to understand more about the factors that will affect our city's economy going forward.
Thanks to this information, we are more informed to provide support for our clients as they navigate potential headwinds on a local, national, and global level as they continue to grow their business.
About the Author
Gene Reynolds
Gene is the Founder and President of Reynolds and Associates, a Houston-based CPA Firm. He has spent 42 years helping Houston entrepreneurs navigate their enterprises thru both calm and stormy waters.