News
The Value of Building Custom Invoices in QuickBooks
2020-08-12 | by Gene Reynolds
Building custom invoices in QuickBooks is a valuable method to help grow your business. Not only will it make your company look more professional when sending invoices to customers, but the customization will help you better track payment status, receive payment faster, and support your company's overall accounting function.
Custom QuickBooks Invoices: External Value to the Customer
Your company performed a service or sold a product. Now you want to receive payment from your customer. You could send a standard, boilerplate invoice from QuickBooks that has the basic details of the invoice date, payment amount, and payment terms. Or, you could increase the opportunity to receive payment faster by creating a custom invoice.
Consider why it's worth your time to create custom invoices to send to customers:
– A custom invoice will allow your company to stand out visually with a professional-looking invoice presentation. It's a differentiator when your customer may be receiving several invoices at one time and prioritizing which ones to pay.
This is especially the case during the pandemic when your customers could be experiencing a reduction in cash flow and are watching outflows very carefully. While it may seem subtle, having a custom invoice that stands out compared to a standard boilerplate invoice may give your invoice a chance for a second look to be paid.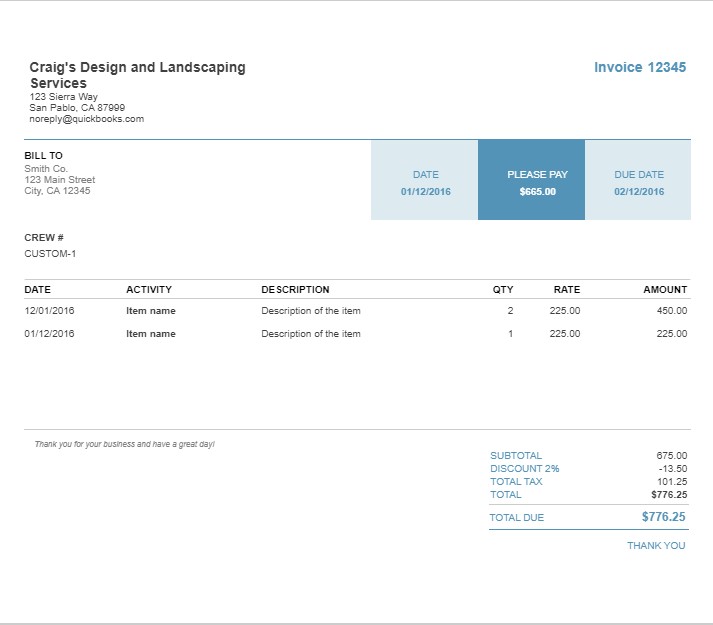 – QuickBooks allows you to create custom emails supporting the invoice. This is your opportunity to include a personalized message or note to the customer providing additional details on the value your company provided to the customer to encourage prompt payment.
– When setting up a custom invoice, you can customize follow-up email alerts notifying your customer of when payment is due. Instead of the system automatically generating a standard email that your customer may overlook in their inbox, you can create custom emails providing friendly reminders of when payment is due.
– Through an add-on payment processing feature in QuickBooks, your company can provide multiple payment options to the customer through the custom invoice. This feature includes online payment options for customers to submit payment digitally in just a few clicks.
Custom QuickBooks Invoices: Internal Value for Accounting
Internally, custom invoices allow your company to better track the full financial details tied to a particular transaction or customer.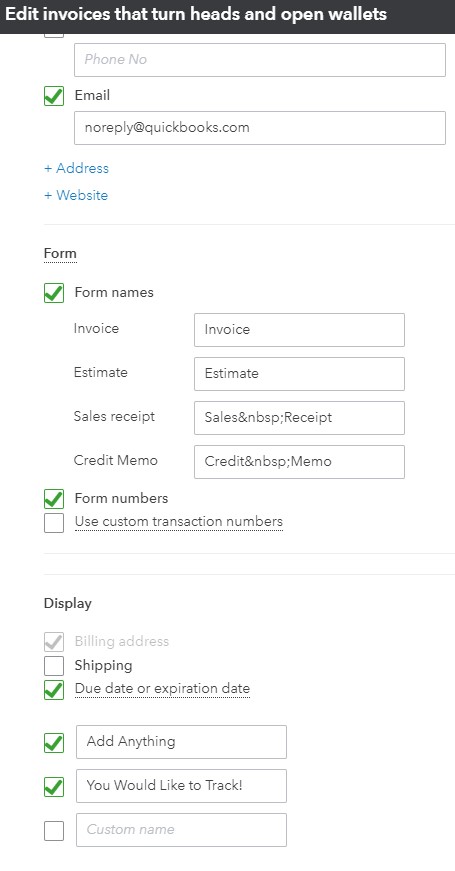 – Through the custom field options in QuickBooks, your team can set up the exact fields you want to include on the invoice. In addition to helping with the customer-facing aspect of relaying key details to the customer, this also helps with your internal tracking of financial details.
The custom fields will help your team better sort the transaction information, help with PO tracking, support billing functions, track information to reports, and further analyze your operational activity to support decision-making.
– When you set up a custom invoice, the accounting team is better equipped to track when payment has been made or when payment is due for a particular transaction.
This feature is invaluable to support the Accounts Receivable (A/R) function of tracking payments owed by customers. Then, if a customer is late on payment, your team can use the custom email notification feature to send a friendly reminder to the customer.
– Custom invoices can help produce more reliable financial reports. The data pulled from custom invoices can be used in QuickBooks to produce cash flow statements, A/R reports, monthly financial reports, and more reports, providing you with greater insight into financial performance.
You can also use the custom data to produce specific external reports that may be required by banks, lenders, or government entities.
Overall Business Value of Custom QuickBooks Invoices
After deciding to create custom invoices in QuickBooks, you can take the next step of creating a custom invoice template that will help save time and effort. You can create several different types of templates to help streamline the process of requesting payment from customers.
– Create a template for recurring transactions, such as the invoice you send out at the beginning of each month for standard services.
– Create a template for project work so that you can easily apply this invoice to a one-off transaction and send out an invoice to the customer.
– Build out several different templates for specific customers or specific types of activity. Then, you can easily select the relevant template that you want to use, apply it to a specific transaction, and quickly send out the invoice. This will also help keep you and your team organized when trying to create and send out multiple invoices at a time.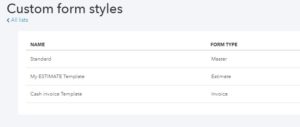 Using a custom invoice template ties back to the importance of receiving payment promptly so that you can maximize cash flow and continue to grow your business.
A professional, custom invoice with customizable payment options that can easily be tracked internally by your team to support the entire accounting function provides tremendous value to businesses.
Work With Our CPA Firm to Support Custom QuickBooks Invoices
Reynolds & Associates is a certified QuickBooks ProAdvisor that has expertise in the functionality of QuickBooks to get the most out of the accounting software for your business.
We work with companies throughout the Greater Houston area as a QuickBooks consultant, and we can work with your team to support the creation of custom invoices in QuickBooks.
We'll take the time to understand the nature of your business, how often you send invoices, and how your accounting function is set up. We'll also help you determine whether the online payment add-on in QuickBooks is a good fit.
Through a consultation with our CPA firm, your company will be better positioned to use custom invoices in QuickBooks to optimize cash flow and help grow your business.
Contact us today to discuss! We can be reached through our website Contact form, by calling 713-316-4560, or via email at info@ReynoldsCPAFirm.com.
About the Author
Gene Reynolds
Gene is the Founder and President of Reynolds and Associates, a Houston-based CPA Firm. He has spent 42 years helping Houston entrepreneurs navigate their enterprises thru both calm and stormy waters.