News
Firm Updates: Heights Chamber Scholarship and Introducing New Client Service Associates
2021-07-26 | by Gene Reynolds
The past year-and-a-half has seen its share of challenges navigating the pandemic and supporting our clients during two very unique tax seasons. We believe we have come out of this season stronger and more prepared to support our clients' changing needs.
As we reach the mid-way point of 2021, we would like to relay a few updates about our CPA firm. Specifically, I would like to highlight how we have remained committed to supporting our local business community through the Greater Heights Area Chamber of Commerce. Also, I am eager to introduce two new Client Service Associates, Sarah Petrocelli and Jamie Niblack.
Our Support of the Heights Area Chamber of Commerce
Small businesses are the backbone of the local business community in the Heights. Every business has faced its own set of challenges during the pandemic. That's why I am proud to currently serve as the Vice Chair of the Greater Heights Area Chamber of Commerce. In this role as part of the Board of Directors, I am able to provide guidance on how the Chamber can best serve the needs of our members.
Additionally, I am excited to continue leading our CPA firm's involvement in the Chamber's annual scholarship program.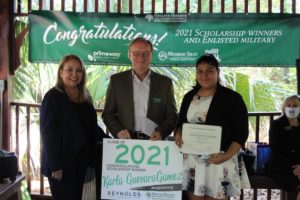 This scholarship program allows businesses such as our CPA firm to contribute to the educational future of a deserving high school senior in our area. Contributing to the program is one of the highlights of the year for everyone in our firm.
This year, we had the opportunity to provide a scholarship for Karla Guevara Gamez, a graduating senior from Waltrip High School. I enjoyed meeting Karla in-person during a ceremony in May to personally congratulate her and discuss her educational future.
We look forward to seeing what's next for Karla on her college journey. We believe that Karla and other members of the Class of 2021 will be well-prepared for the next season of their educational pursuits after navigating this pandemic!
Introducing Our New Client Service Associates
Our CPA firm has continued to grow during the pandemic so that we can best serve the needs of our clients. In 2021, we have grown our team through the key additions of Sarah Petrocelli and Jamie Niblack as Client Service Associates.
– Sarah originally joined our firm in February through an internship position. We then hired her on as a full-time client service associate, which enabled us to provide additional support for our clients during the peak of this year's tax season. She is a tremendous asset because of her unique experience and current educational pursuits.
Sarah is currently pursuing an Accounting degree at the University of Houston. This follows time in the military providing support services for the U.S. Navy. In her role, Sarah interjected economic modeling to create income/cash inflows forecasts and successfully implemented quality control measures to maintain high customer satisfaction.
Sarah's experience in the military helped her develop a well-organized, focused, and driven attitude that certainly pays off in a CPA firm to understand how to address each client's unique tax, accounting, and business challenges.
– We are also excited to welcome Jamie Niblack to our firm. Jamie is a QuickBooks Certified ProAdvisor, expanding our capabilities to provide QuickBooks support for our clients.
Jamie successfully completed the QuickBooks Online Certification exam in July 2020 to solidify several years' worth of experience working with QuickBooks.
Prior to joining our firm, Jamie provided numerous QuickBooks services for clients. Specifically, she created company QuickBooks files and trained management on the proper usage and recording processes, analyzed financial statements, created customized purchase orders and invoices through QuickBooks, reconciled bank statements every month in QuickBooks, and presented A/R, A/P, Balance Sheets, and Profit/Loss statements to clients.
Educationally, Jamie obtained her Bachelor of Business Administration (B.B.A.) degree in Accounting from Stetson University. She also received an Associate's degree in Accounting from Seminole State College.
– I am excited to welcome Sarah and Jamie to our firm, joining our additional Client Service Associates, L'Rissa Padrezas and Patti Polk. This group of accomplished associates are prepared to provide exceptional support to our clients in the second half of 2021 and beyond.
To find dedicated support from our team, contact us today to discuss how we can support your business. We look forward to helping you grow through our accounting, tax, and business services.
About the Author
Gene Reynolds
Gene is the Founder and President of Reynolds and Associates, a Houston-based CPA Firm. He has spent 42 years helping Houston entrepreneurs navigate their enterprises thru both calm and stormy waters.