News
Reynolds Makes a Difference at 2017 Heights Chamber of Commerce Education Luncheon
2017-05-23 | by Gene Reynolds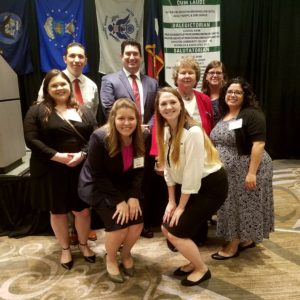 Reynolds and Associates was a proud of sponsor of the 2017 Greater Heights Chamber of Commerce Education Luncheon held May 18 at the Sheraton Brookhollow Hotel in Houston.
This year's theme of "Making a Difference" resonated with Reynolds and Associates employees in attendance. It was inspiring to see more than 60 students walk away from the event encouraged in their pursuit of higher level education or military commitment.
Included were 30 college scholarship recipients. These high school seniors received an average scholarship of $1,000 to help launch their college career at major universities in the state of Texas and beyond.
Also, 36 high school seniors were recognized for going into the military. The students received a certificate and tool to take the Heights with them wherever their journey takes them. The event organizers also divided each student by the military branch they will be representing, including the Army, Navy, and Air Force.
It was also important to recognize the people who helped shape and form these students. The Greater Heights Chamber of Commerce took time to recognize the Teachers of the Year from area schools. In total, 26 teachers received a stipend check.
How Reynolds and Associates Contributed
Reynolds and Associates was one of the key sponsors to help make the event a success. We are proud of our sponsorship at the "Valedictorian" level, joining the likes of Houston Community College in helping make the Chamber scholarships possible.
In total, there were about 400 people in attendance supporting this great opportunity to recognize successful students and teachers from the Heights area.
The packed event created an exciting atmosphere for the local community. This was especially true for the Garden Oaks Elementary School choir, which made a last impression on attendees with their performance.
We also heard from keynote speaker Harris County Sheriff Ed Gonzalez. Plus, Education Committee chair Cindy Reibenstein, representatives from HISD, and Alan Dettlaff from the University of Houston Graduate College of Social Work.
Overall, this was a great opportunity for local businesses, schools, and community partners to come together for a worthy educational and military cause. We look forward to seeing how the scholarship recipients and military entrants make a difference in their future pursuits.
About the Author
Gene Reynolds
Gene is the Founder and President of Reynolds and Associates, a Houston-based CPA Firm. He has spent 42 years helping Houston entrepreneurs navigate their enterprises thru both calm and stormy waters.